Rachel has been busy working on gross motor skills and trying her first solid food!
We've been working really hard on tummy time.  She's not a fan (as evidenced by the photo below), but we've been doing modified tummy time to help build strength.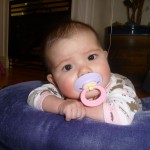 It worked, too!  She started rolling from her tummy to her back and has rolled from her back to tummy, but I think that one was aided by being on a slight incline.  Thankfully, I think she's following in Sam's foot steps and not using the rolling to actually go anywhere, at least for now.
We also pulled out the exersaucer for her since she likes to stand so much.
[photosmash id=12]
Rae has generally been a breeze to put to sleep, but she is sure a cuddler.  She rolls on to her side and reaches for her lovies to cuddle.  She received this one as a gift, and it is one of mom's favorites, too.  Note that the chick's nose went right into her mouth.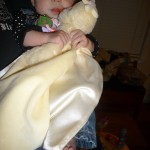 And finally, she's started on solid food.  Her first cereal went ok, but we decided to wait another week or two before we really started on giving her regular meals.  She seems to like it now and we've started making it a little thicker.  She really likes that.  We're planning to try giving her carrots or squash this weekend.  Here's a video of her very first solid food.
more...